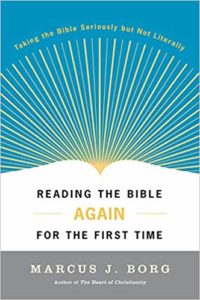 Wednesdays during Lent
11:45 AM in the Sanctuary
7:00 PM in the Sanctuary
Join us for worship services on Wednesdays during Lent at 11:45 AM or 7:00 PM. We will gather for prayers, hearing from God's word, and singing. Lunch (12:30 PM) and dinner (6:15 PM) will be served in the Faith Center gym.
The focus for Lent this year will be on revisiting how we read, understand, interpret, and use the Bible in our faith lives. We will be using a book by Marcus Borg, "Reading the Bible Again for the First Time." The messages each week, on Sunday and Wednesday, will follow the chapters of the book.