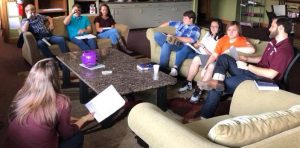 At Faith Lutheran Church, faith formation begins at home from our earliest days. As we grow into our elementary years, the Christian faith is nurtured through the stories of the Bible in our Learning Groups. In middle school, we introduce more complex biblical and Lutheran theological concepts. When a young person reaches high school age, we believe that faith development takes on a new twist. During this period, we start moving away from theological education and start focusing more on real-life issues and Christian living that affect high school age youth. Throughout the year, we take opportunities to instill Christian practices and leadership skills through participation in summer camps, retreats, one-day gatherings, small group fellowship, music ensembles, a summer mission trip and Sunday morning study.
---
High School Learning Group
Time: 9:45 AM
Location: Youth Loft (Faith Center – 2nd Floor)

Contacts: Clayton Faulkner, Kate Faulkner, Kelley Keller
All high schoolers are invited to gather in the Youth Room on Sunday mornings to learn Bible stories from their childhood on a more age appropriate level. They are encouraged to explore the question "What does God want in my life?" with their peers and caring adults.