"Welcome one another, therefore, just as Christ has welcomed you, for the glory of God." Romans 15:7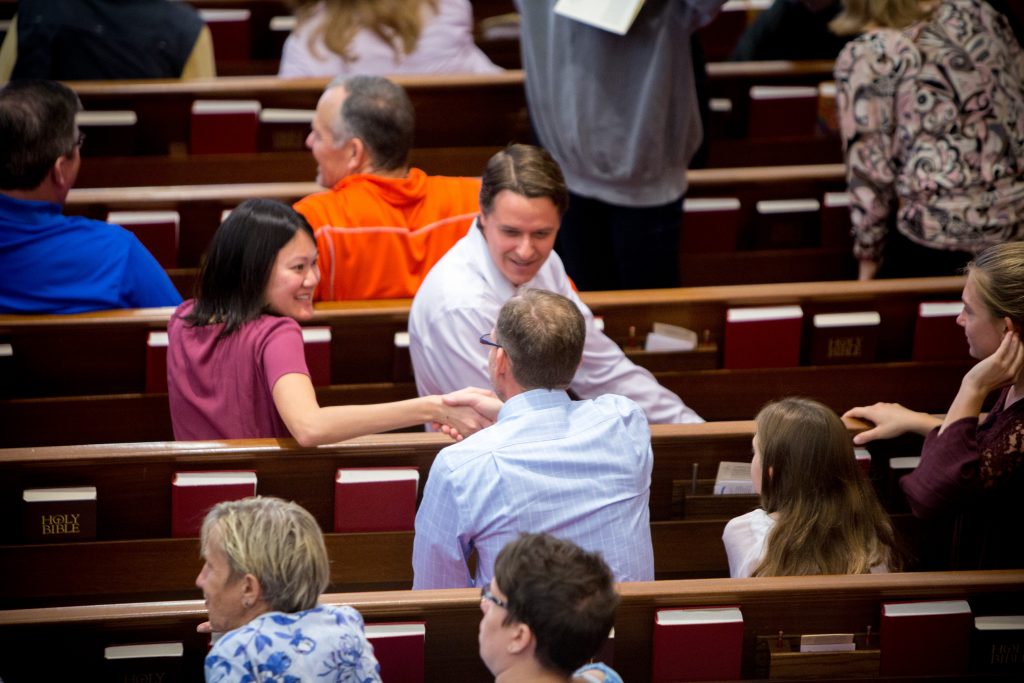 We're people who need God, because none of us can do this alone. We're people who are eager to share the Gospel, because the world needs what God has given us in Jesus Christ. We are people who live to serve others, because we encounter God in service to the world. We're people who worship, in praise for how God is transforming the world, us included.
We welcome all, as God welcomes all. Our campus is home to many recovery groups who do inspiring work to rebuild broken lives and relationships. Our Faith House ministry is a medical hospitality ministry for those receiving care at the Medical Center. Our community is a loving home for those with learning differences, emotional challenges, and those who struggle with depression or other psychological challenges. Our space is accommodating to those with difficulties of mobility, and we offer assistive listening devices for those who need them.
"In our shared weaknesses, and our hospitality to all people, we find the God who makes all of us strong." 2 Corinthians 12:9-10.
---
Becoming a Member of Faith Lutheran Church
We believe faith is a journey, not a destination. We'd love to walk with you on that journey, and to have you walk with us. One of the values of our ministry is that we believe discipleship is more important than church membership. We recognize that the church exists to make followers of Jesus who bless the world with faith, hope, and love. We think making disciples is more important than making church members.
We offer two pathways for becoming a member of Faith Lutheran Church: First Steps @ Faith and Welcome to Faith.
First Steps @ Faith is our catechumenate journey for those wanting to explore and deepen their
understanding of the Christian faith in community. Candidates for baptism (and those affirming their baptisms) are paired with sponsors for weekly Bible study and reflection. This mentoring experience takes place over the course of a school year (Fall, Winter, and Spring) and culminates at the Easter Vigil. First Steps @ Faith gatherings take place on Wednesday evenings at 7:00 PM.
Welcome to Faith is a series of four Sunday morning classes led by Pastor Nelson held multiple times per year to allow guests the opportunity to get to know the staff, vision, and ministry of Faith Lutheran Church. We meet on Sunday mornings in the Conference Room at 9:45 AM. Participants are given a chance to introduce themselves, share their story, and learn more about membership. New members are then welcomed into the church family by affirmation of baptism at a Sunday morning worship service.
If you are interested in knowing more about either First Steps @ Faith or Welcome to Faith, send us a note.
---
What We Believe
We are Lutheran in our understanding of what it means to be Christian. We know we all sin, and we all fall short of the glory of God, but we live each day in the sure knowledge that God remains faithful, and that God never fails. We are saved by God's grace alone, not by our actions or works. We understand faith is a gift from God; it is not something we earn. It comes to us in the life of Jesus, who lived, died, and rose again to obtain the forgiveness of our sins. We study the Bible, because it tells the story of God's saving action in our own lives, and in the lives of God's people, and because it establishes the standard for how we are to live.
---
Our Church History

Set in the heart of the Houston metropolitan area, Faith Lutheran Church was founded on January 29, 1946 by a group of five families that lived in and around the small town of Bellaire, TX. Initially, the young and fledgling congregation of five families met in the Varsity Room of the Ye Olde College Inn, in the Rice University and Medical Center area. The following year, 1947, the new congregation purchased a tract of land located at the northwest corner of Bellaire Boulevard and Avenue B in Bellaire, Texas for $15,000. At the time of purchase, gravel roads and open prairie comprised much of the surrounding countryside. The cities of Bellaire and Houston have experienced a great deal of change and growth over the decades, as has Faith Lutheran Church.
Important milestones in the life of the church include:
1946 – Founding of Faith Lutheran Church in Bellaire, TX
1947 – Purchased land and began construction of first church building
1952 – Sunday school rooms and Fellowship Hall are built (current site of Faith Day School)
1963 – We moved into our new sanctuary (today's main sanctuary)
1971 – Faith celebrates 25th anniversary
1980 – Visser-Rowland organ is dedicated to commemorate Faith's 35th anniversary
1983 – Founding of Faith Lutheran Day School
1983 – An arsonist sets fire to the sanctuary causing extensive damage
1985 – Founding of Faith House Ministry
1990 – Faith Center is built
1992 – Faith House II is built
1996 – Faith celebrates 50th anniversary
2008 – Hurricane Ike causes extensive flooding and damage to Faith Lutheran Day School
2010 – "Stepping Out in Faith" capital campaign commences
2011 – Faith House Ministry celebrated 25th anniversary
Faith Lutheran Church looks forward to its future as a congregation and what God has in store. As the congregation continues to reach out into the larger communities of Bellaire and Houston, new excitement and challenges await us and with God's help and guidance, Faith will continue to be that beacon of hope, love, and faith to those in and out of Faith's membership. No matter where God leads the congregation, the members of Faith continue to be committed to its motto to "Be a Blessing." We invite you to come and experience Faith and become part of its blessed ministries.
---

Over the years, different Lutheran church bodies have been established and organized to meet the needs of Lutherans in communities and nations all over the world. The Evangelical Lutheran Church in America (ELCA) is the largest Lutheran group in North America, founded in 1988 when three North American Lutheran church bodies united: The American Lutheran Church, the Association of Evangelical Lutheran Churches, and the Lutheran Church in America.
The ELCA is a community of faith that shares a passion for making positive changes in the world. Our faith is built around a strong belief in God as made known to us in Jesus Christ. Through worship, service, and education, we practice our faith, grow our relationship with God, and experience God's grace in our lives. We also work hard to put our faith into action. In today's complex world, we strive to make a difference in practical, realistic ways. The ELCA is comprised of nearly 10,500 congregations across the U.S., Puerto Rico, and the Virgin Islands, and nearly five million members. We encourage you to explore the ELCA, and help us celebrate our gift of faith. To learn more, visit www.elca.org.
The ELCA is comprised of 65 synods (geographical groupings of ELCA congregations). Faith Lutheran Church belongs to the Texas-Louisiana Gulf Coast Synod, a network of growing, Christ-centered, outwardly-focused congregations passing the faith to the next generation. To learn more, visit www.gulfcoastsynod.org.