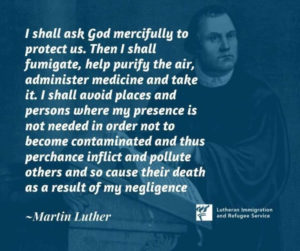 Faith Lutheran Coronavirus Update – Monday, March 30, 2020
From Pastor Kerry…
As we move into another "shelter in place" week, I keep thinking about the 10th chapter of Matthew. It opens with this verse, "Then Jesus summoned his twelve disciples and gave them authority over unclean spirits, to cast them out, and to cure every disease and every sickness." So we certainly pray for those disciples of today who work in the health care professions. Especially in those places that are feeling the full force of the pandemic.
But then I read on in that same chapter and Jesus continues his advice: "See, I am sending you out like sheep into the midst of wolves; so be wise as serpents and innocent as doves." In that historical context, the point is that discipleship will be difficult and not always welcomed. In OUR context it means we are all being sent HOME – to shelter in our own homes, to work from home where possible, and to do our part both to stay safe AND to prevent the spread of the virus.
As you know, we can all plan to spend the month of April at home. Quite likely, that might extend until June. So far we have not heard of anyone from the congregation who has tested positive from the virus. But we ARE hearing stories of "people who know people" who are sick. All the more reason to be vigilant in staying home and staying safe. God will see us through!
1. Our church office is now closed. There are certain things that we can't do remotely so our staff comes in when they need to and stays home when they can. Physical distancing is the best practice.
2. Thank you to the staff and volunteers who are helping us offer online worship to the best of our ability!
We have one more Lenten Wednesday worship service this week. You can watch at 11:45 at live.faithbellaire.org or catch it later at your own convenience.
Our Chinese worship and learning life will be online. That will continue until further notice. Pastor Tan is now preparing to offer Holy Week services online as well.
Next Sunday is Palm Sunday and then we move into Holy Week. We will record the service on Sunday morning at 8:30 AM. This will be a blended service using both Heritage and Gathering music. The service will not include Holy Communion. You can participate live at live.faithbellaire.org or you can watch anytime afterwards as our services are archived on our website.
We will live stream Holy Week and Easter Sunday services. Maundy Thursday and Good Friday will both stream at 7:00 PM. We will NOT have a Saturday Easter Vigil service this year. Easter Sunday will live stream at 8:30 AM.
To worship remotely, go to live.faithbellaire.org. If you need help in figuring out how to use your computer, iPad, or phone, to worship remotely, please call the church office and we will walk you through the process.
We will post a link to worship – and other information we need to pass on to you – on Faithbook on Facebook.
3. Our Sunday morning learning has moved to homes.
For our young people, Courtney Lerch has sent learning curriculum to each family. We are hoping that every family will create time to work through the materials together. Christian faith formation happening in our homes has long been central to our vision for learning – this is a great opportunity for us to enter this family practice.
For adult learning groups, this will largely be up to each group. Free online platforms like Google Groups or ZOOM are great solutions if a group chooses to meet remotely. Groups could choose to still meet on Sunday mornings at 9:45 or they could decide on another time that works better. Our staff will be in contact with our learning group leaders to help them decide whether or not to continue meeting.
4. Until further notice, we have canceled all public activities. We have several online groups meeting throughout the week. Here is the list of gatherings for this next week:
Monday
Email update from the church
Tuesday
Wednesday
Thursday
Friday
Saturday
Email update from the church with worship information
Sunday
5. Faith Day School and Mother's Day Out are closed until further notice. We have tentatively set April 13th for reopening our schools but this completely depends on what public health officials are suggesting by then. We realize this is a burden on our families but it remains the wisest decision.
6. Do what you can to stay connected but, if you are 60 or older, stay home! Call one another. Check in on one another. Facetime with your grandchildren. Call if you need help.
Our pastors always have their cell phones with them and are always available for conversation and prayer. IF YOU NEED HELP, please let us know so we can do what we can. Let's make the best of this bad situation.